In Conversation with Nicholas Pollack
TF: How did you get into photography?

NP: When I was in middle school I used to watch a young sapling that been planted in a courtyard next to the library. I passed the tree each day at school, and witnessing it change with the seasons moved me to the point that I envisioned the cycle of its appearance through the seasons. I got a disposable camera to show this in its completion. I did not formally engage with photography until later in my life, but this is my earliest memory of photographing in a deliberate way.

TF: Tell me about your book, Nothing Gold Can Stay.

NP: My book 'Nothing Gold Can Stay' came out of a body of work that I photographed in Branch Brook Park in Newark, New Jersey. I happened upon the park while driving between my apartment in Brooklyn and where I grew up in suburban New Jersey, and I was drawn to its enigmatic presence and geographical location. This work is the product of walking in the park with my camera and making pictures, meeting people along the way, and discovering the work as its being created.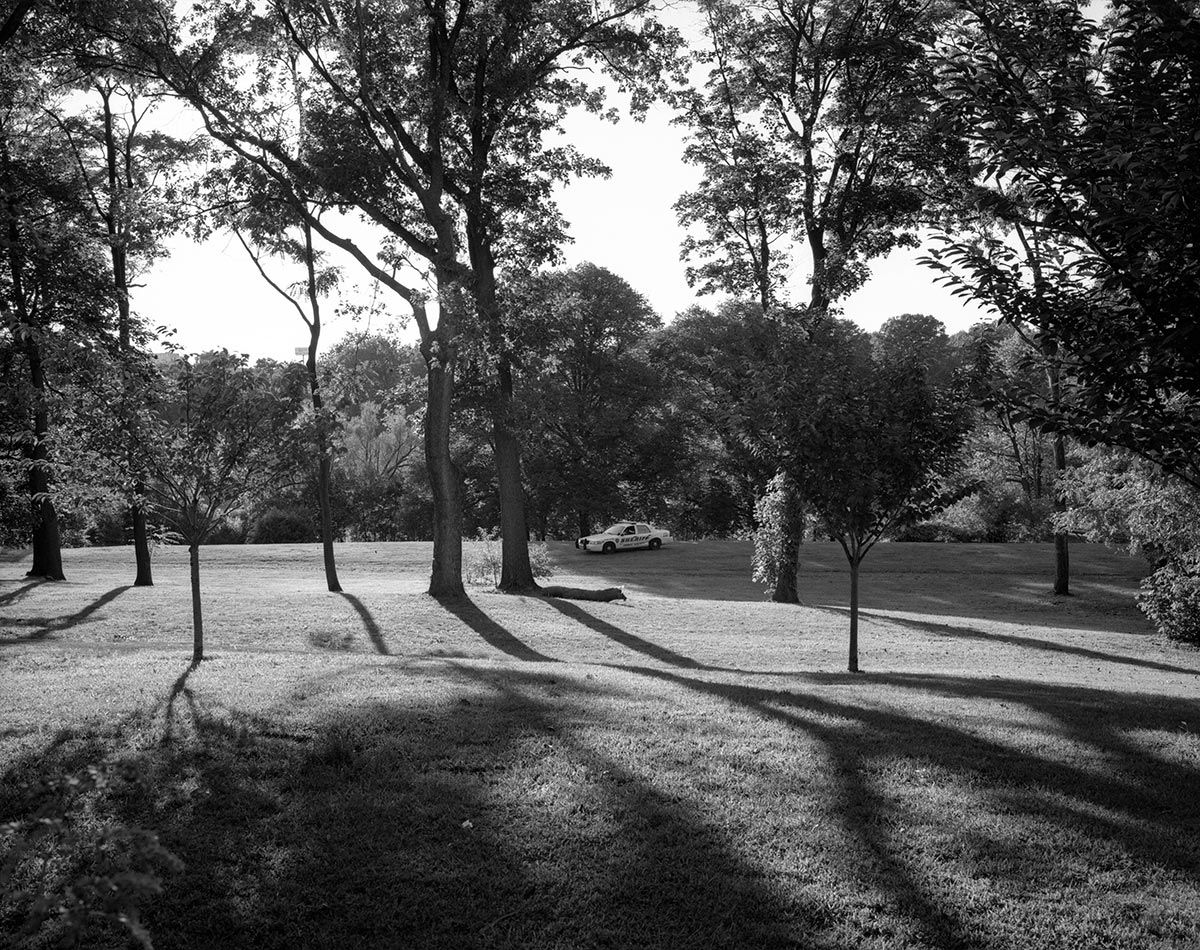 TF: Tell me about your series, Bronx / River.

NP: Several years ago - since around the time I first seriously began making pictures - I was interested in physical geography and the notion of place. During this period I was photographing along the Bronx River working with a 4x5 field camera and a medium format camera, a tripod, and color film. I began walking lengths of the river making photographs of the landscape and the people who I encountered interacting with it. The river acts like a core sample of the surrounding area - cutting through towns representing a spectrum of socio-economic classes and demographics. This work is about how these unique cultures and formations inform one another and intersect to form a cultural landscape.


TF: If you could photograph one person dead or alive from any century, who would you photograph and why?

NP: Diogenes. I've been fascinated by him ever since I read the book Possum Living. I'm not sure he would allow me to photograph him but at the very least I could be in the presence of someone whose life continues to inspire me.
TF: Outside of photography, what do you enjoy doing?

NP: I enjoy reading, listening to music, going to the beach, walking outside, seeing movies in a theater, watching birds (not necessarily birdwatching because it is usually sparrows or species local to my neighborhood, but maybe there is no significant difference), coffee and donuts (separate or together).

TF: If you could have one superpower what would it be and why?

NP: Control of an element - specifically water. I love the water whether it be a river, a lake, an ocean, etc. I would like this power for selfish reasons, and so that I could help others by providing universal access to clean water and by averting crises (i.e. - tsunamis).

TF: Future plans or upcoming projects?

NP: I am working on a project that is focused on places and characters in the New Jersey Meadowlands. I plan to realize this work in book form and as an exhibition. I will also be making a book and an installation of the Bronx/River work.
Nicholas Pollack (American, b. 1986) is a photographer whose work concerns the relationship between culture and geography - stories of how people coexist with overlooked places, questions of identity, poverty, and human experience.

In 2016 he was nominated for an ICP Infinity Award, MACK First Book Award, and he was shortlisted at Self Publish Riga. He published a monograph of his celebrated project Nothing Gold Can Stay in the summer of 2015, which is held in numerous libraries and collections.