In Conversation With Sean David Bradley

TF: How did you get into photography?

SDB: I got into photography through my Dad. He lived in west Africa for a while as a 20-something and I grew up looking at these beautiful photos he took while he lived there. He gave me my first camera (Nikon EM) when I was 13.
TF: Tell me about your series Tet and traveling through Vietnam.

SDB: Tet was initially thought of as a Sally Mann-esque venture through the battlegrounds of the Tet Offensive. I was about the age of the men who were getting drafted in 1969, so I thought it would be an interesting experiment to send myself there and explore war landscapes. Turns out that Vietnam has really kind of moved on - there are definitely museums and a tourist economy surround the war (mostly geared toward Vietnam Vets), but I found it really hard to track down locations. Most weren't marked or people had just developed new projects on the land. I really like the attitude of just 'well that sucked, but this is my land, I'm rebuilding.' I ended up being there for around a month, motorbiking up and down the southern coast, exploring any battleground I could and visiting all the museums and dedicated areas. I raised some money to print a book on Kickstarter and sold them online and through some art book stores. I'm pretty happy with how it turned out.

TF: Tell me about your series Truck Nuts.

SDB: Truck Nuts started off as an obsession with a wack Instagram account (@trucksgonewild). It's basically just slow motion twerking and homemade monster trucks getting covered in mud. I was really inspired by Emiliano Granado's Spring Break Series and how comically sad it all was - I love throwing myself into uncomfortable and alien situations and trying to get myself out. I saw they were having an event near my home city of Houston, so I rented a car and drove over to Colfax, Louisiana and got myself a weekend pass.
SDB: It was everything I thought it would be and more - abundant Confederate Flags, customized trucks and 4-wheelers and golf carts and UTVs, stripper poles in the backs of trucks, tons of people flashing for Mardi Gras beads, people covered head to toe in mud. I was shocked by the outward racism and sexism of the event, but also how copacetic everyone seemed to be; no one was really antagonistic and everyone seemed to think mud and trucks first, everything else second. It was really fun and funny and sad and depressing all at once. Anyways, I ended up putting the images together in a book - there are still a few copies around, I think.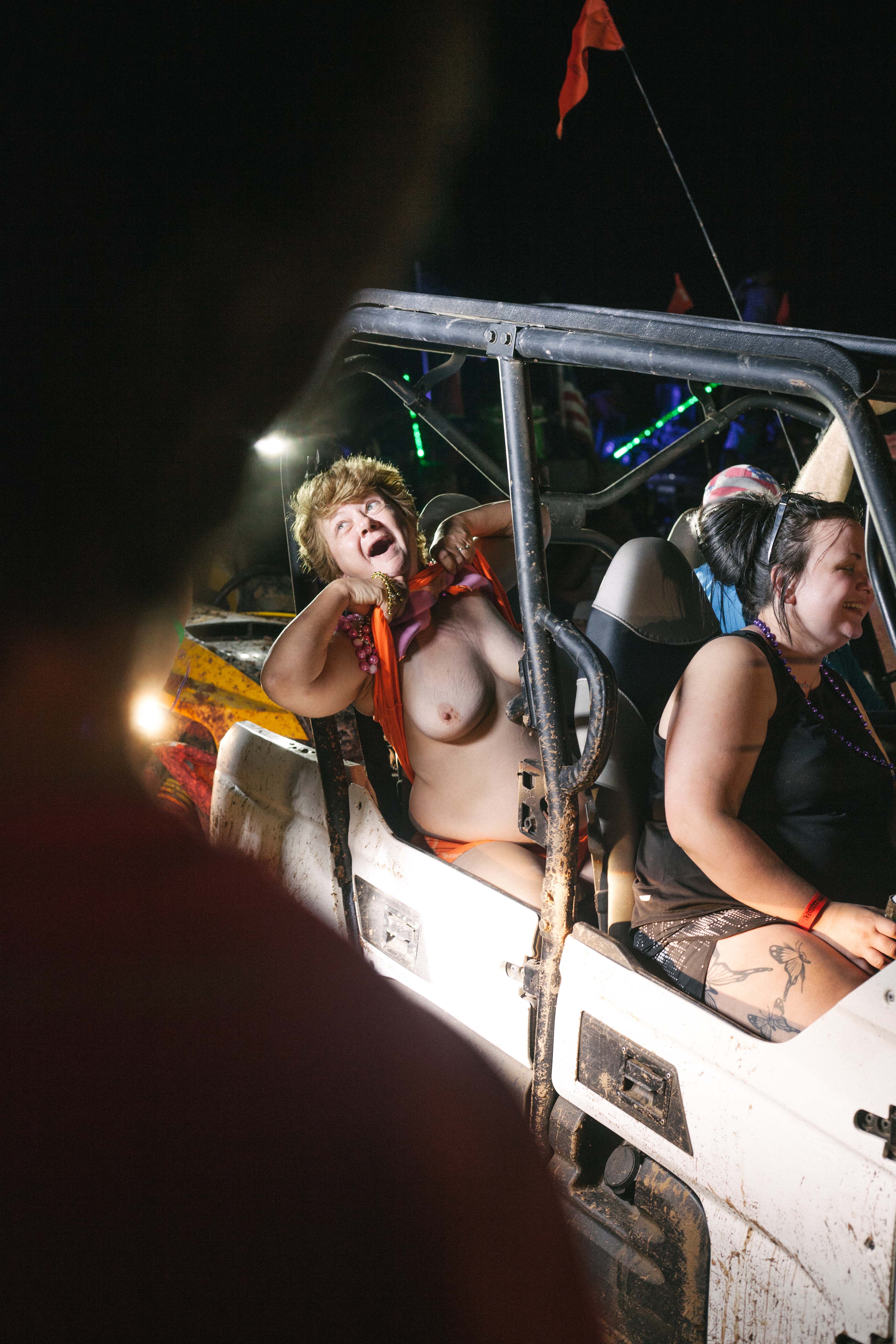 TF: You also co-host a radio talk show. Tell me about that.
SDB: Every Sunday my friend Colin and I get together to do a live internet radio show called Pancake Boys. We're really into vibey Sunday morning music AND eating pancakes, so we do both. We're currently looking to get a sponsorship deal from our favorite pancake mix company, Kodiak Cakes. Kodak, hit us up! And tune in - we take requests.

TF: If you could have any super power, what would it be and why?
SDB: I wish I could switch on being good at any sport. I'm decent at a few sports but I'm so miserable at most of them that it's not terribly fun. I'm the guy who can kickflip 1 in 20 times and can reach the rim but can't slam dunk. I can rally in tennis but I can't serve. I just don't care about any of them enough to get better!

TF: Future plans or projects in the works?


SDB: Currently working on putting out a bootleg sports apparel line called Cool Dude Play Clothes. I live in Oakland, so it's mostly Warriors stuff for now. Started off as just wishing that modern sports wear wasn't so dumb so we designed our own! And I'm just finishing up a portrait series on Raiders fans at tailgates. Fans get pretty wild before the games out here - like 8 hours before a game, full campers, BBQ's, illegal bars set up, everything. It's awesome. And I'm going to New York in spring for a month or so - NYC, hit me up!

Sean Bradley is a freelance photographer based in California. Be on the lookout for more of his work in the near future!